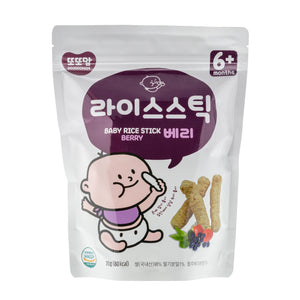 DDODDOMAM - Organic Rice Stick Berry - 6mnths+
$6.20

$6.20
Tax included.
---
---
100% NATURAL! CHEMICAL FREE! HEALTHY SNACK!
Looking for healthy snacks for your Loved Ones! Ddo Ddo Mam baby rice sticks are the BEST CHOICE!
Made of chemical free Organic Rice(except real puff) in the Korean first clean tech area, Eco City Yangpyeong. It is the best eco-friendly snack which maintains the nutritional ingredients for your family. Many flavours to choose from; Berry, Fruits & Vegetables!
Product Details:
• No artificial sweeteners, flavours, or preservative added
• Has a soft and mild taste
• Pressure cooked at over 100ºC, not fried in oil
• Developed to melt gently in the mouth and easy to eat for children
• Developed for children to hold it easily in their hands
• Snacks can be easily kept as it is packaged with as standing zip lock bag
Ingredients:

• Berry - 98% Organic Rice (Korean), 1% Organic Strawberry Powder (Korean), 1% Organic Blueberry Powder (Korean)


Product Content:

• Suitable for 6 months and above
• Baby Rice Sticks - Berry (20g)
---
We Also Recommend